What Do
I need?

Business
model

How does
it work?

SIP
Phone Setup

Create
an account

Help

FAQ

CALLING CARD SOFTWARE for VOIP BILLING
When people are away from home they need a solution to call their friends or family on a cheap rate, because mobile roaming is an expensive thing. You can now setup a phone service for them so they can make cheap international phone calls.
WHAT DO I NEED TO START A CALLING CARD SERVICE?

Internet Connection
Any type of broadband internet connection is enough to handle your voice traffic. The minimum requirement is 256/128 kbit/sec.

Analog Touch Tone Phone with SIP Gateway/Adapter (optional)
You can offer the service on any type of analog phone with tone dialing. You also need a SIP gateway or adapter (for example Linksys PAP2) which will route the calls via internet to our call exchange servers. The cost of this entry investment is about $70.

Control Center Account Setup
You need to register an account so you can add your location and setup an account for your SIP device. You can also manage and print your calling cards, ratesheets, etc. there.
TIP: If you don't have a place to put out a phone, your customers can use any SIP phone, desktop or mobile SIP software applicaton. In this case you don't need a SIP gateway because everything is built in to the SIP phone. They just have to enter 'sip.sipcontrol.com' as the SIP server address, the username and password is printed on the calling card which they receive from you.

BUSINESS MODELL

We provide the system
Our servers will route the calls and will count each call's cost. Your client will be informed about the remaining balance on the phone.


We pay the calls
Our system can handle calls to almost any country of the world. Each route has it's own provider and system. You don't have to deal with this, we manage and pay all routes.


You bring the customer
It's your responsibility to provide the service in places where the most people need phone service. You also have to sell the printed prepaid cards.


You provide the telephone set
The equipment must be set up by you. You'll need a regular telephone, sip gateway, and internet connection. This hardware cost is about $70.


We share the income 50-50%
You sell the card, we provide the call and the prepaid system. We share the income so you get 50% and we get 50%.

HOW DOES IT WORK?

You print prepaid vouchers on our site
When you login to our Control Center you can do several things. You can buy additional cards, modify your details or you can print out cards.

You sell the vouchers
The prepaid vouchers are in different denominations. You can sell them for cash.

Customer picks up the receiver and enters the voucher code
On the phone the client will hear a welcome message which asks the client to dial a secret voucher code. After successfull authentication the line is open for the user.

Customer dials the requested number
After successfull authentication the user can dial the required number in international format. During the successfull call the system counts and deducts the actual calling cost from the client's balance. It's calculated from the actual calling rate. The client can here the balance too on the phone.
You can check the actual prices of calls here.
PUBLIC SIP PHONE SETUP
You can use any touch tone phone with SIP internet gateway or you can use SIP phone too. The phone has to autodial 9999 to enter the calling card system. Basically you have to set three values on your SIP device: SIP server,SIP username, SIP password.
You can find these values on the controlcenter under Calling Cards > Sip devices if you don't have any device yet, simply add your first SIP location.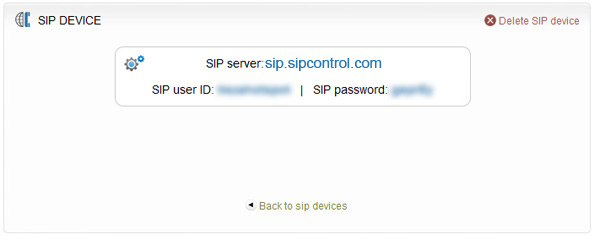 NOW SETUP YOUR SIP DEVICE
Example for Linksys PAP2 SIP phone gateway:

1. How to setup and connect to your PAP2.

- Before powering the device on, first you need to connect its Ethernet port to the internet.
- Then connect your phone to the line1 port on the PAP2 device. Plug the power cable in and wait 60 seconds.
- Pick up the phone, and dial the star key 4 times. You will hear a message stating you are in the configuration menu. Enter 1 1 0 and press the pound key (#).
- You will hear a human voice give you your device's IP address.
- Enter this ip into your browser's window. Some browsers will require you to remove leading zeros, ie 192.168.008.001 will be 192.168.8.1
- By default PAP2 does not have a password set. You will now be in the administrator interface.

Open your SIP gateway's administration page and click on admin login, choose line 1.
2. Set sip.sipcontrol.com in the SIP proxy (or SIP server) field. Enter your SIP user ID, and password you created in the control center (which is different from your controlcenter login and password).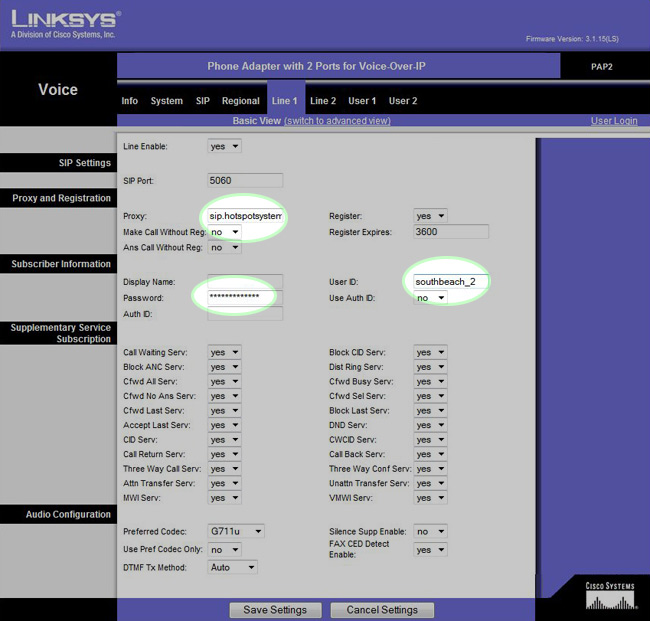 3. Make sure you enabled the line, Line Enable: yes and then press Save Settings
4. Change to advanced mode under Line 1 and enter the following in the Dial Plan field: (<:9999>S0)

This way the device will autodial 9999 so the user will not have to dial this, the user will hear the welcome prompt after picking up the receiver.
5. Don't forget to Save Settings on each pages.

CREATE AN ACCOUNT
DISCLAIMER
The content of the website is in the exclusive ownership of SIPcontrol.com. All rights reserved.
The user acknowledges that any content published on the site may be under protection of copyright ,trademark and other intellectual property rights. Any, unauthorized use of these contents, infringement of copyright, trademark and intellectual property or the perpetration of an illegal act may result in damages and other legal consequences in compliance with the international commitments of the Republic of Hungary and with the legislation of the European Community.
The SIPcontrol.com does not take responsibility for any incidentally occurring damage initiated by the use of our internet service, its inadequate operation, malfunction of the system or unauthorized amendment of data, or by computer virus, connection or other system failures, or by any similar causes.
Upon transferring personal data to us, you agree to the registration and management of your personal data for purposes and period of time depending as essential by the nature of the service.
SIPcontrol.com is exempt from liabilities deriving from damage due to unauthorized use, disclosure or loosing of user login name, password or certificate. The detailed description of management rules of data forwarded to us by the user can be found at the "Data Protection Principles".
REFUND POLICY
If you have paid for HotSpot access through the system of SIPcontrol.com or paid for a SIPcontrol.com's service, you have right to cancel within seven days of the purchase in case you haven't used the service that you've paid for. If you cancel your order, you will have your payment returned.
Principals of data protection
SIPcontrol.com does not collect any information through its websites that can be connected to your person (name, address, phone number or e-mail), unless you voluntarily decide to provide it to us. (by registration or answering to questionnaires). SIPcontrol.com is organizing and storing the personal data provided by you (time of registration, chosen package) in order to operate the system. The company states that it is storing and documenting your data in order to complete your orders and to confirm your future requests.
In case of online payment we are not storing and we don't see the card information (number of card and expiry date), because the transaction happens directly though a payment processor (Inter-Európa Bank, WorldPay or PayPal).
We are obliging ourselves, to handle the information collected by us according to the law. Upon transferring personal data to us, you agree to the registration and management of your personal data for purposes and period of time depending as essential by the nature of the service.

SIPcontrol.com is exempt from liabilities deriving from damage due to unauthorized use, disclosure or loosing of user login name, password or certificate. The detailed description of management rules of data forwarded to us by the user can be found at the "Data Protection Principles".
FAQ

Q: What is this all about?
A: You can set up your own virtual phone service. You can simply install the necessary device and you can sell your own prepaid phone cards. You can keep the 50% of the income by default.

Q: I registered but how to buy credit?
A:Log into the control center choose the amount of cards and buy the cards online. After this you can print out the cards.

Q: What are the calling rates?
A: You can find the calling rates HERE. These rates will be charged to the customer. You pay 50% less than these rates when you create your prepaid card so you can make 50% profit on all routes.

Q: Can i sell calling cards in my local currency?
A: Yes, you can set your currency on the control center.

Q: Do you have better long distance rates that are much less compared to our regular telephone providers?
A: You cannot earn money over your regular telephone providers service. Our rates contains your and our profits as well, that is why the rates are more expensive.

Q: Can i sell minutes for cheaper rates?
A: It's possible to set cheaper rates for your users but this way your earning will be less.

Q: Can you explain if i buy calling cards worth of $10, how do we share the revenue?
A: When you sell the prepaid card for $10 you can keep $5 because you paid just $5 for the card.

Q: Can you provide a local inbound number?
A: Yes, it's possible to assign local number to the service. Please send us your area code so we can give you a quote.

Q: What are the internet upload/download requirements?
A: 128kbit/sec up and 128kbit/sec down. Make sure the line is not overloaded with other data traffic and make sure to set voip QoS on your router if possible.

Q: How many simultaneous connections does the system support?
A: There is no limit. We are continously extending our system as demand grows.

Q: Can users use a VOIP software to make phone calls?
A: Yes, the user can use voip software with internet connection. The username and password for authentication can be found on the card.

Q: Can users check the numbers they dialed, length and costs of their calls and actual balance?
A: Yes, you can find the login link for users on the control center.


Copyright 2006-2011 © SIPcontrol.com. All Rights Reserved.